Taraz Technologies is providing superlative laser cut stainless steel and plastic stencils cutting services to its customers. Laser cut stencils are made by partner factory in China while plastic stencils are produced in-house which enables us to produce the stencils in shortest lead time of 1 day. Customers can choose framed or frame-less stencils based on requirement. Manufacturing lead-time is 1 day for plastic stencils and 1-3 days for steel stencils.
Capabilities
Plastic Stencils (Pakistan Only):                     Mechanical cut A4 page
Stainless Steel Stencils:                                    Laser cut framed & frame-less
Instructions
Gerber Files: Please include following Gerber files (paste layer, board outline).
In instructions, specify material, quantity, thickness, frame, size etc.
Please fill out the form below to get quote for the required services.
smt stencil, smt stencil services, pcb stencil, solder paste stencil, laser cut stencils, solder stencil, stencil printer, smt stencil printing in Pakistan, smd stencil, custom laser cut stencils, cheap stencils, stencil printing, order stencils, steel stencils, custom stencils, laser stencil, stencil smt, stencil cutting service, pcb stencil printer, stencil, circuit stencil, etching stencils, stainless steel stencils, pcb stencil maker, pcb solder stencil, paste stencil, custom made stencils, stencil manufacturer, laser stencil cutting machine, pcb solder paste stencil, laser cut stencils suppliers, stencil making service, solder stencil printer, smt stencil manufacturer, smt solder paste stencils, smd stencil printer
Are you looking for high quality Solder Paste?
Anti-tombstoning No-clean Paste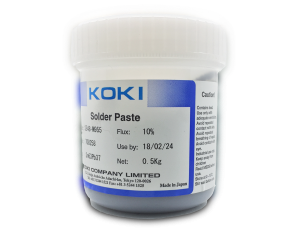 .
High-performance No-clean Solder Paste SE48-M955 for stencil processes
The size of particles 20 ~ 45 μm
High time of life after drawing more than 36 hours
ROL0 flux type
Shelf life of 6 months

solder paste, lead free solder, solder flux, silver solder paste, solder paste stencil, stencil paste, koki, koki solder paste, liquid solder, lead free solder, silver stencil solder paste, paste stencil, solder paste for smd, surface mount solder paste, soldering flux paste, soldering paste for electronics, smt solder paste, no clean solder, low temperature solder paste, high quality solder paste, soldering paste price, buy solder paste, best lead free solder paste, no clean solder paste, solder paste stencil, flux paste